- Click on Funds from the Deposit page


- Choose Bank Transfer

- Fill in the amount that you would like to transfer (within your weekly deposit limit)

- After selecting the amount you would like to transfer, you can proceed by clicking on the Deposit button to be redirected to a second page that has CoinMENA's bank account details
- You will then manually enter CoinMENA's bank account details in your personal online banking account and transfer the amount you have chosen to deposit
Note: When transferring your funds, please make sure to add your Unique Deposit Order ID in the following sections: Purpose of Payment, Notes, Reference, or Remarks sections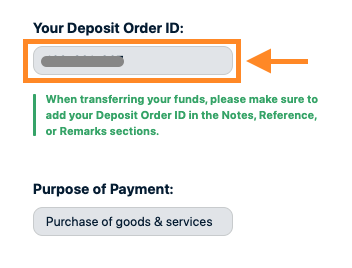 - Attach a transfer receipt or a screenshot of the transfer to ensure we can process your deposit swiftly. This must contain the following:
a) Account Number
b) Name of Account Holder
c) Unique Deposit Order ID
d) Amount Transferred
e) Bank Name & Logo
f) Date of Transfer
- After you attach your transfer receipt, click on the Upload button

Local transfers are received on the same day or the next working day. International deposits may take 3-5 working days to be received. As soon as we receive your payment in our bank account, you will receive a confirmation email that your deposit order was processed and your CoinMENA account balance was updated
Note: If it is a local transfer, you can initiate a transfer to CoinMENA's bank account using Benefit's Fawri/Fawri+ services.
- Deposits via Fawri have no limit on the amount but are not instant transactions.

- Deposits via Fawri+ allows you to deposit up to 1,000 BHD instantly.